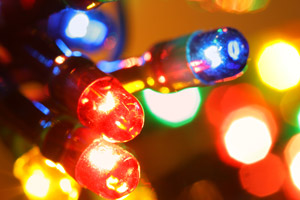 Seasonal decorations, including lights, trees and wreaths, can help put your household in the holiday spirit. However, when not used properly, decorations–particularly lights–can create safety hazards or cause fires.
Keep your family safe during the holidays. Prior to use, read the manufacturer's instructions for each item to understand how to use it properly. In addition, follow these best practices to ensure your holiday lights and decorations are installed correctly:
Double check lights for frayed wires or cracks, and be sure there is a bulb in each socket. Discard and replace damaged strands.
When decorating outside, keep ladders and decorations away from overhead power lines. Ensure the ladder is securely placed on the ground before climbing.
Lights should be approved by Underwriters Laboratory. "UL" will be clearly displayed on the tag, signifying the product has been inspected for potential safety hazards. Red UL marks indicate the lights are safe for indoor/outdoor use, and green UL marks indicate the lights are only safe for indoor use.
Do not hammer tacks or nails into the electrical cord when hanging lights. Instead, use clips to safely attach lights to the house.
Use heavy-duty extension cords, and only use cords outdoors if they are designated for outdoor use. Avoid overloading extension cords by using no more than three sets of standard lights per cord.
Outdoor lights and inflatable decorations should be plugged into circuits protected by ground fault circuit interrupters (GFCI). GFCIs help prevent electric shock by breaking the circuit when differences in the currents of hot and neutral wires occur.
Use a timer or turn off lights before going to bed, or if you will be away from home.
For special ornaments that plug into a bulb receptacle, use no more than two per strand, or check the manufacturer's directions.
Indoor lights should not touch drapes, furniture or carpeting. Keep lit candles away from flammable items, too.
Prevent tripping by placing cords and decorations in low-traffic areas where they won't be walked on. Avoid twisting, kinking or crushing cords.
Additionally, if you have children in your home, use safety caps on all electrical outlets that are not in use to prevent shock. Keep sharp objects out of reach, as well as items that could be swallowed.
By taking the proper precautions both inside and outside of your home, you can prevent hazards and focus on friends and family during the holidays. Don't forget to periodically check lights and decorations throughout the season to ensure they continue to operate safely.
With our team at A Better Home Inspection, we've been your neighborhood home inspection company since 1988. Our staff have helped many California homeowners maintain their houses – Please call us at 760-805-1966 and schedule today!
Happy holidays!