Here we are again, with Thanksgiving 2022 right around the corner on Thursday, November 24th. For many who are hosting family and friends this year, the day of thanks brings with it a lot of stress. But it doesn't have to bring on anxiety and nerves. Yes, the preparations, the traveling, and the family time can be a challenge. But hosting a stress-free Thanksgiving 2022 is possible.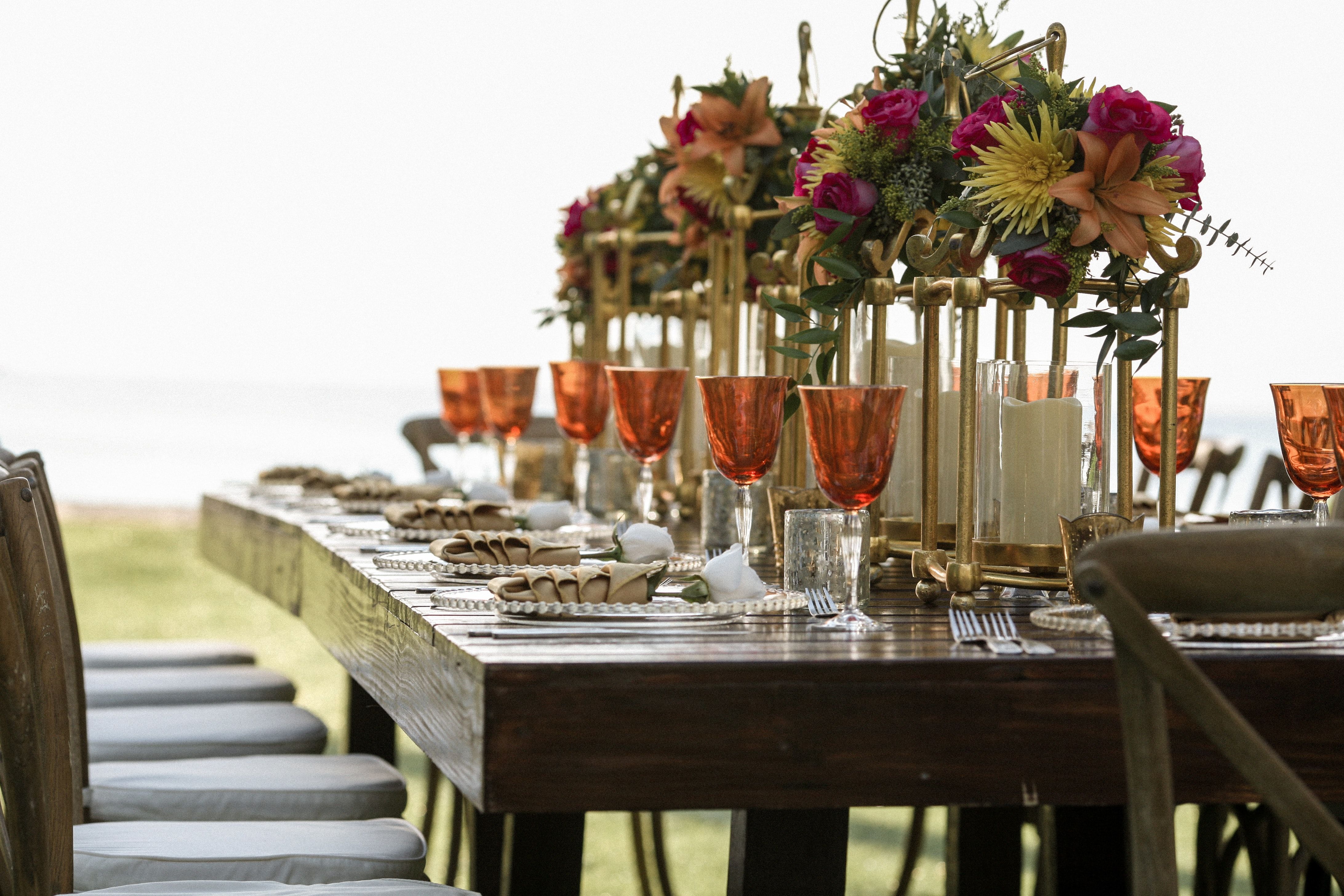 FOR A STRESS-FREE THANKSGIVING FEAST, FOLLOW THESE THANKSGIVING TIPS:
Plan your menu early. Like today!
Check out this article from the Food Network for ideas — from classic Thanksgiving menus to Bobby Flay's favorites. And, here in SoCal, you can enjoy our year-round Mediterranean weather and give thanks outside, like in the image above.
Remember to thaw the turkey in your refrigerator.
Do this on Saturday, November 19th. Thawing turkey in the fridge takes days — depending on the weight, as many as five. Food-safety guidelines warn that harmful bacteria start when meat is left at room temperature longer than two hours.
Keep your menu simple, making the dishes you and your family like.
The holidays are about traditions, so be careful when you decide to innovate. It may be best to use tried and true recipes that you know your friends and family will love. But, whatever you do, defiantly don't set your sights on ten new recipes.
Before the big shopping trips, list everything you'll need.
Make sure your list includes things like a meat thermometer, turkey baster, and disposable turkey pan. And remember to have a backup jar of gravy for seconds or thirds.
Plan and work ahead.
Many holiday favorites, such as stuffing and cranberry sauce, can be made a day or two in advance. Speaking of stuffing, the USDA advises against cooking your stuffing inside your turkey because it slows the turkey cooking time and raises health concerns. Besides, the inside of a turkey is too small to hold enough of the yummy stuff!
Prepping is of utmost importance.
Like so many things in life, a successful Thanksgiving dinner is all in the prep. So go ahead and prepare a few side dishes ahead of time. Here's a prep tip: pie crusts will last in the freezer for an entire month.
Get a good night's sleep.
Since hosting requires a lot of energy, ensure you get a good night's sleep.
Ask for help.
There's nothing wrong with asking for a bit of help. For example, a family member or friend will happily set the table the night before.



Timing is everything, especially at Thanksgiving.
It's essential to make a plan for your oven and stovetop in advance. When it comes to all the dishes that cook at the same temperature, put them all in the oven simultaneously.
Hire a bartender.
If you don't, have drinks on hand in big, punch-bowl-sized batches. Then, you can enjoy your guests instead of making their drinks all night.
Set up a children's table.
If children will be in attendance, keep them busy by setting up a craft table with some yummy, healthy snacks for them. (Preferably low sugar!) That way, they'll remain happily occupied and out of the kitchen.
Take some time for yourself.
Remember to plan some me-time before your guests arrive. Everyone needs a little space to relax on Thanksgiving. Your calm mindset will set a positive tone for the whole day. So, go ahead and treat yourself to a glass of bubbly in advance. You deserve a special personal toast for all your hard work!
Festive and functional rules the day.
When it comes to getting dressed, think festive and functional, and make sure you are comfortable. Forget about those tight pants. Go for something a little giving!
When guests arrive, have a little something waiting.
Your appetizers and drinks, both adult beverages and some non-alcohol favorites should be ready and waiting when guests arrive. That will encourage mingling while buying some extra kitchen time.



Desserts!
Stack desserts on a plate next to forks, spoons, and coffee cups and set your decadent delights aside in another room. As soon as the dinner plates are cleared, you can easily pull out your desserts!
Stock up on to-go containers.
Make sure to have plenty of takeout-style containers handy. You know, the ones you'll need for leftovers so your guests can take some of the holiday magic home.
Set up your own house rules.
This one is good: The cook does not clean. Perhaps ask someone to take care of the cleanup while you enjoy your guests.
Start a new tradition.
When you sit down for Thanksgiving 2022 dinner, why not start a tradition of asking everyone present to share what they're thankful for this year?
Have a fantastic & hopefully stress-free Thanksgiving!
With our team at A Better Home Inspection, we've been your neighborhood home inspection company since 1988. Our staff has helped many California homeowners maintain their houses – Please call us at 760-805-1966 and schedule today!